Chiropractor
Trevor Adams D.C.
Dr. Trevor Adams was born and raised under the "Friday Night Lights" of Odessa, TX.  He fell in love with science and learning about how the body works at a young age.  His passion for sports and learning took him to Northwest Missouri State where he played football and majored in Biology and Psychology. Dr. Trevor was honored to be named a two-time team captain and was a part of two national championship teams in his time at Northwest.
Dr. Trevor earned his Doctorate of Chiropractic at Parker University in Dallas, TX.  He also had the privilege of completing his internship at the largest pediatric practice in Colorado with Dr. Michael Viscarelli at Adio Chiropractic in Golden, Co.  Dr. Trevor has extensive post-graduate training and experience in pediatrics and pregnancy.  He is Webster Certified through the ICPA which specifically focuses on the gentle and specific care of pregnant women.  Dr. Adams is also Certified Advanced Proficient in Torque Release Technique, which has been proven through science to be the most specific and reproducible technique in all of chiropractic.
Dr. Trevor is a member of the International Chiropractic Pediatric Association, the Fort Worth Chamber of Commerce, Fort Worth Vision- Young Professionals, Fort Worth Southwest Area Council, and the Benbrook Chamber of Commerce.
He and his wife, Bailey Lane, were high school sweethearts and married in January of 2015.  They are thrilled for the opportunity to bring principled, neurologically based chiropractic care to the greater Fort Worth area.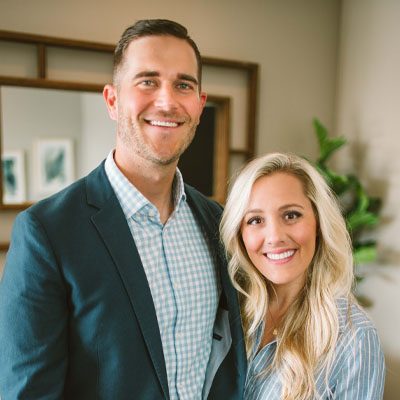 Co-Owner/Office Manager
BAILEY ADAMS
Bailey Adams was born and raised in Odessa, Texas, where she met the love of her life in fifth grade, Dr. Trevor Adams.  Growing up together, she and Dr. Trevor got the opportunity to develop not only the sweetest of friendship, but a precious love for one another.  Bailey went to college at Texas Christian University, where she obtained a Master's Degree in Speech Language Pathology.
During her time at TCU, she was a member of the Rho Epsilon Chi Omega Chapter, as well as a TCU Showgirl.  She continues to hold a deep passion for the TCU Horned Frogs and all things purple.
Bailey practiced speech language pathology for three years in Irving Independent School District.  Despite her passion for serving those with communication disorders, she felt called to join alongside Dr. Trevor in opening Vertical Chiropractic and providing the Fort Worth community with hope and healing found through principled chiropractic care.
Chiropractor
Megan Peterson D.C.
Chiropractic Assistant
Ebony Hall
Chiropractic Assistant
Jackie Martinez
Social and Marketing Specialist
Sierra Graves
OFFICE HOURS
---
Monday
10:00am - 1:00pm
3:00pm - 6:00pm
---
Tuesday
3:00pm - 6:00pm
---
Wednesday
9:00am - 12:00pm
2:00pm - 5:00pm
---
Thursday
10:00am - 1:00pm
3:00pm - 6:00pm
---
Friday
Closed
---
Saturday & Sunday
Closed